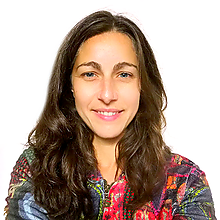 Pauline Antonino
Hello, I'm Pauline! Back in 2005, I bid farewell to my hometown in Picardie, France, and embarked on a thrilling journey across the globe. After years of exploring different corners of the world, my heart found its home in Catalonia, and in 2016, I settled here. The Costa Brava, with its breathtaking landscapes and rich cultural tapestry, has truly captured my soul.
I take great delight in assisting newcomers in this incredible place. Whether it's sharing insider tips, hidden gems, or curating tailor-made experiences, I'm here to ensure your time in Costa Brava surpasses the ordinary and transforms into an unforgettable adventure.
Let's embark on this exciting journey together, crafting moments that transcend the boundaries of regular holidays. I look forward to meeting you soon!
| | |
| --- | --- |
| Mobile: | +34 628 560 002 |
| E-mail: | pauline@uniquecostabrava.com |
| Languages: | |
View agent properties